Augusta Athletics Baseball
Part of the CRBL. The Chippewa River Baseball League in Wisconsin. The C.R.B.L
Amateur Baseball in Wisconsin
The league celebrates its 90th year in 2015
Wisconsin Baseball All Star 2014 Event
North beats the South 13 to 5
Augusta All Star Game 2014. The 2014 C.R.B.L. All-Star Game on July 4th at 1:00 on Jan Krueger Diamond at Memorial Field in Augusta.
The All Star game festivities are part of the Bean and Bacon Days Celebration and will include the induction of the 2014 Class into the C.R.B.L. Hall-of-Fame.
The 2014 AA class includes former Augusta Athletics
~ Dennis Lee
~ Marceleno Alonso
~ Jeremiah Paulson
~ Scott Hughes
~ Kurt Stellpflug
Admission is $2.00 and concessions served.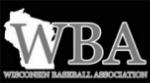 CRBL is the Chippewa River Baseball League
Teams in the Chippewa Valley Baseball League in 2014:
North Division

South Division

Bloomer Fightin' Woodticks
Cadott Red Sox
Chippewa Falls Lumberjacks
Jim Falls Sturgeons
Stanley Slammers
Tilden Tigers
Augusta Athletics
Beef River Bullfrogs
Eau Claire Bears
Hallie Eagles
Osseo Merchants
Whitehall Wolves
CRBL 2014 schedule coming
Brief History of the CRBL and Amateur Baseball in Augusta
Augusta Wisconsin Baseball Historical information contributed by Andy Niese. Andy has written a history of Amateur Baseball in Northwest Wisconsin. His work has been accepted by and is available at the library of the Baseball's Cooperstown NY Hall of Fame - more information here soon
An Amateur Baseball League in Northwest Wisconsin was created in 1908 and played in the 1908 and 1909 seasons. The League was recreated in 1927 and played until 1941 when World War II intruded. The league returned in 1946 and has been active through 2014
Augusta Wisconsin's participation dates to as early as the 1950's when the Augusta Red Sox were formed. The Augusta Team played in various leagues including the Trempealeau and Clover Leaf leagues. Interest waned in the 1960's and the team was disbanded.
1980:
Jan Kruger, with his passion for Augusta and Baseball, helped create the Augusta Alumni team in 1980. The team at first was an independent non-league team. The team's popularity grew and in 1989 the Augusta Athletics joined the Chippewa River Baseball League and has been active continually ever since
Jan has passed away but is remembered by the Jan Krueger Diamond at Memorial Field in Augusta Wisconsin.
Enjoy a game at one of Wisconsin's Amateur Baseball towns
Keys:
bloomer, Osseo, Whitehall, Cadott, stanely, celebration, bean, bacon, days, teams, valley, stanly, cadott, Augusta, Wisconsin, 法輪功, Falungong, 李洪志, June 4, 6月4日, 天安门广场, Tiananmen Square, 1989, baseball, wisconsin, all, star, event, chippewa, river, baseball, league, valley, 2014