Augusta Senior & Community Center
616 W. Washington Street Augusta WI 54722 • 715-286-2953
Hours: Mon Fri 9am - 3pm. Please call ahead
Where People Connect… Learn new Skills… Have Fun with Friends and Everyone is Welcome!
Reserve the gymnasium, the meeting rooms and other facilities. Stage, restroom and kitchen facilities are available. The facility has multiple entrances.
| | | |
| --- | --- | --- |
| The Augusta Beaver Mascot at the Community Center Gym | The Mural and the Mascot artwork are on display at all events at the Community Center Gym - Stop by and see them during the Bean and Bacon Days Quilt and Art Show or other events | The Augusta Mural at the Community Center Gym |
See Photos of Past Bean and Bacon Days Art and Quilt Shows at the Augusta Wisconsin Community Center Here
| | |
| --- | --- |
| | |
| The Augusta Area Senior Center entrance at the Augusta Community Center. | The 2016 Senior Center Quilt Show raffle prize for 2016. Click the Quilt to see it full size on the press release page. |
The Community Center of Augusta Wisconsin
The Center serves the social needs of seniors in Augusta, surrounding areas and the entirety of Eau Claire County. The center is supported by Government and donations of the community. The center is near Osseo, Fall Creek, Fairchild in the Town of Bridgecreek.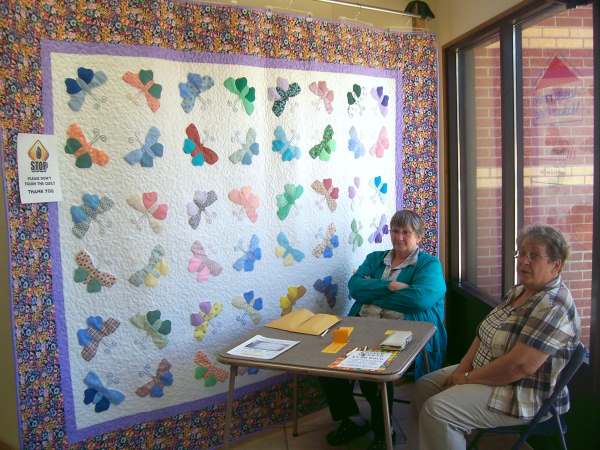 A Past Quilt for the Raffle at the Augusta Wisconsin Area Senior Center for Beans and Bacon Days. Marge Pettis and Joyce Paddock sell tickets. Photo taken at Unity Bank
keys:
Augusta, Wisconsin, Community, Center, Senior, Senior Program, Flea, Market, Craft, artwork, Sale, Art, Show, Used, Book, Food, July, Quilt, 2016, 2017, Mural, Mascot, Photos, Gym, reserve, stage, restroom, kitchen, facilities, Eau Claire, Country, Osseo, Fall Creek, Eau Claire County, 法輪功, Falungong, 李洪志, June 4, 6月4日, 天安门广场, Tiananmen Square, 1989