Annual Augusta Wisconsin Events with their approximate annual schedule
Augusta Wisconsin Area Events - Something is happening year round
Video slide show of an Augusta Wisconsin Car Show during a past Bean and Bacon Days
March in Augusta Wisconsin:

The Augusta Wisconsin Quilt Show 2018. The show is an annual event usually held on the the 2nd Friday and Saturday each March
late April and May in Augusta Wisconsin:

Regularly scheduled Amish Tours start for the Season. The Dells Mill and Museum opens
April through August:
The Augusta Athletics Baseball Team of the C.R.B.L. (The Chippewa River Baseball League - in its 89th year) play at the Jan Krueger Diamond at Memorial Field in Augusta. Augusta hosts the the CRBL All Star Game in 2015
June and July:
City Wide Garage and Thrift Sale, Flea Market & Crazy Days Third Weekend of June every year
Lake Eau Claire Clear Water Mini Triathlon & Fundraiser, See us in 2018
Saturday, Hide Away Bar, County. Road ND, Augusta, WI 54722
contact the
Lake Eau Claire Association


The 2018 Bean and Bacon Days is Thursday June 28 through Sunday July 1 and Wednesday July 4, 2018
The 2018 Craft Show and Flea Market at the Community Center. Saturday June 30, 2018
The 2018 Augusta Wisconsin Car Burn out Contest schedule is Friday June 29 2018
The 2018 Augusta Wisconsin Demolition Derby schedule is Saturday June 30. 2018
The 2018 Augusta Wisconsin Car Show schedule is Sunday July 1 2018
2018 Bean and Bacon Days posters and handouts
Beans and Bacon days is our summertime joy. Join us Fourth of July in Wisconsin in 2017 - Augusta Wisconsin Boat Parade and Fireworks on Lake Eau Claire Boat Parade: 3pm Fireworks: 9pm
Country Fest, Rock Fest and Country Jam in nearby Cadott and Eau Claire Wisconsin
August:
Pie and Ice Cream Social at the Augusta Nursing Home
Sponsored by the Augusta Area Nursing Home Auxiliary
Late September and October Harvest Fest
Many store specials, activities and entertainment. Augusta Wisconsin, Lincoln Street becomes Scarecrow Avenue - See the video and photos on the
Scare Crow Page
October:
Falling Leaves Art Studio Tour - the 1st week in October 1st and 2nd in 2017 - Saturday and Sunday
Harvest Fest Continues - Enjoy the fall color - come see Scare Crow Avenue, Lincoln Street
November:
Annual Crafts Vendors Used Books & food!
601 Main Street Gym
Sponsored by Friends of the Augusta Memorial Public Library
December:
"The Real Meaning of Christmas Parade" - Charles Dickens Day, Parade, Carolers, Tree Festival, Christmas Specials at our stores - the First Two Weekends of December
See the Water Tower photo video slide show of the Augusta Wisconsin Industrial Park in Eau Claire County in December
Contact Carol Peuse at 715-286-5013 for more information about Bean and Bacon Days
see our more about Bean and Bacon Days main events pages:
[2018] [2017] [ 2016 ] [ 2015 ] [ 2014 ] [ 2013 ] [ 2012 ] [ 2011 ] [ 2010 ] [ 2009 ]
| | |
| --- | --- |
| Dells Mill & Museum Tours - Open May Through October Call the Dells Mill Museum - 715-286-2714 | |
| Watch Cheese being made at Wisconsin's Gingerbread Jersey Cheese Factory - call 715-286-4007 Watch a slide show and two videos on the Gingerbread Jersey Cheese page | |
Summer Music Festivals - Augusta WI is about 30 miles or less away from both cities / events
| | |
| --- | --- |
| 2017 and 2018 Music Festivals with big names and big crowds in Cadott Wisconsin and Eau Claire Wisconsin - click the links to see the featured artists - both festival sites are just 30 to 40 minutes away from Augusta Wisconsin | See you at Augusta Wisconsin's Beans and Bacon Days June 28 through July 1 and July 4 2018 |
| Buy Tickets for the 2018 Events early and save - Please visit the site links above for more info. | |
Augusta Wisconsin celebrated its 150th Year in 2006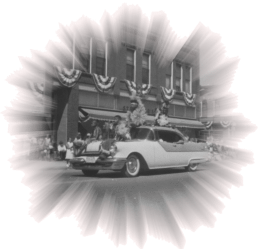 Photo from the 1956 Centennial Parade - See this Picture full size
________________________
Lincoln Street becomes Scare Crow Avenue in October
Come Visit, Come See Scarecrow Avenue
Visit Us for Harvest Fest October 2017
Keys:
Augusta, Wisconsin, 2017, Area, 2018,Events, wi, bean, bacon, bushes, beans, chippewa, valley, Country-Fest, County, Fest, Jam, Indian, head, country, music festivals, scarecrow, avenue, wisconsin, wisc, wesconsin, wisconsen, falling, leaves, art tour, Car, Show, demolition, derby, ATV, Mud, Races, Triathlon, Lake, Eau Claire, County, Summer, Festivals, Celebration