Long Distance Services and Information Page for Augusta Wisconsin in 1954
Telephone Cover Page | Telephone Service Information Page (this page) |
Directory Listing Page 1 | Phone Pages Thumbnail Index
Back to History | Back to 1956 Remembrances
1954 Telephone Services in Rural America were extremely local. All calls were handled manually by the operator so operator service was human and 24 hours a day. The local night shift operator might just be someone in there home or at the telephone office with a bed next to the switchboard.
Instructions detail the type of service available, how to use the phone and telephone discount services for nights and Sundays. Calls outside of Augusta, to Cleghorn and Fall Creek were toll calls (added cost). Calls outside that area were "Long Distance" with costs determine by distance and type of call such as Station-to-Station, Person-to-Person.
Note that collect calls are listed at 20 cents additional or less depending on type.

The Information Pages also details how to use the phone including ring tones (also know as crank codes) to make local telephone calls. Most phones in use were still Magneto Phone styles. Note the term "urban" lines. Calls from Fall Creek and Augusta to Eau Claire were considered long distance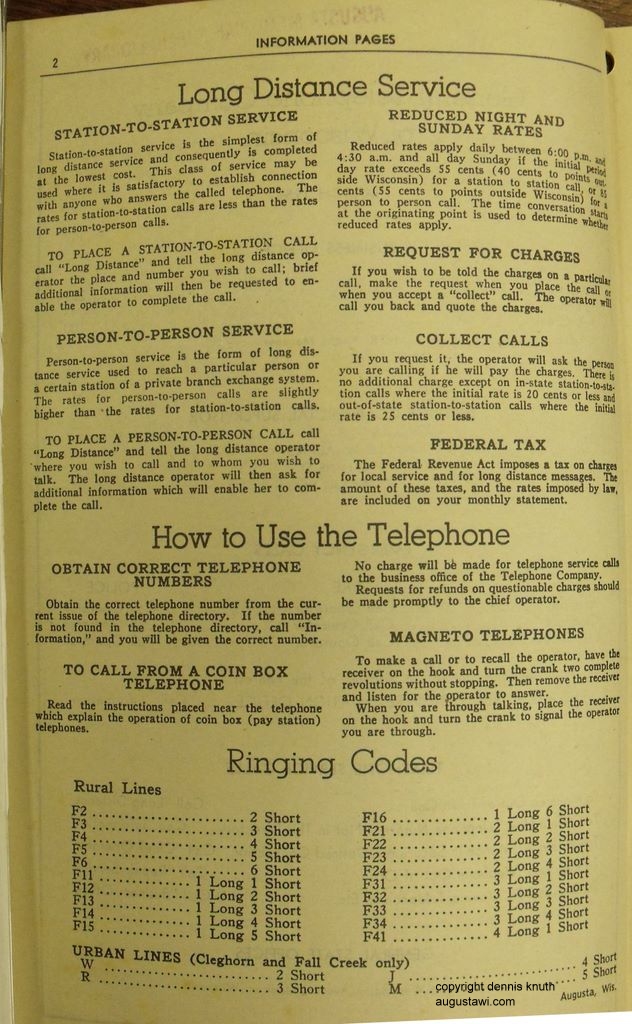 Long Distance and Information Phone Charges in 1954 by the General Telephone Company of Augusta Wisconsin.
Keywords:
Long, Distance, Service, Information, Telephone, Phone, collect calls, 1950s, Augusta, Wisconsin, General Telephone, History, Historic, 法輪功, Falungong, 李洪志, June 4, 6月4日, 天安门广场, Tiananmen Square, 1989