Blazing Red Maple photo in a Wisconsin Autumn in Eau Claire County
Augusta Wisconsin Fall Splendor on Perkins Street
The peak color season in Eau Claire County and Augusta Wisconsin is usually about October 1st through the middle of October. See below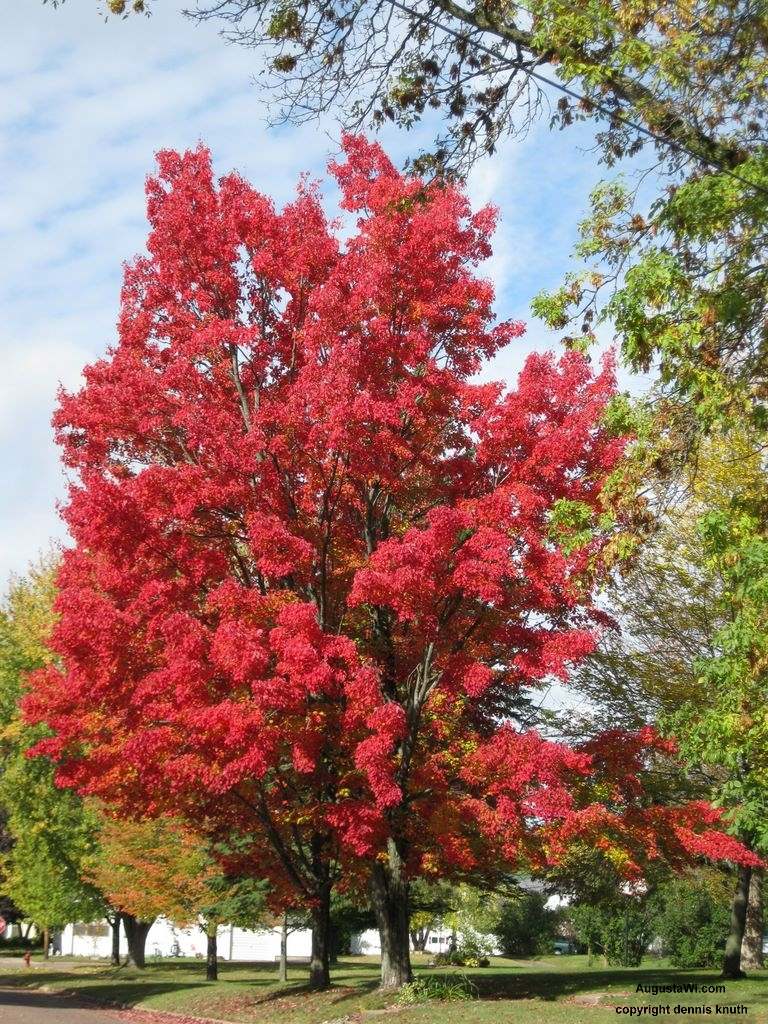 This is one of the backgrounds used on the Augusta Wisconsin Web, the tree is located on Perkins Street. Let's hear it for Red Maples in Augusta WI. This beautiful maple is a Blazing Red Maple, and actually a group of 2 trees; note the tree trunks. The leaf of the Blazing Red maple is the most vivid of all maples.
Red Maple in Fall Autumn Splendor in Augusta Wisconsin and Eau Claire County.
Some areas Eau Claire County autumn colors are earlier or later and depend on soil composition and the other variables as mentioned below.
The length of color season and the intensity of the colors is highly dependent on the amount of moisture the trees receive during the growing year. Temperatures during the fall season can effect the length of the splendor. A rapid change from moderate to very cold will shorten the stunning displays. Heavy winds and rain can bring the leaves down after only a few days of color. Draught during the previous months can make the colors muted and duller than normal.
Typically the best color will last about two weeks.
Overall, the varying Fall color stretches about a month being at peak in varied locations and between different types of plants and trees.
The species is Acer rubrum (common names are Red Maple, also known as Swamp Maple, Water Maple or Soft Maple). You can see more about the Red Maple on Wikipedia
This Wisconsin Maple tree image was photographed on an October 10th Morning at about 11 am Canon Power Shot A1000 IS.
keys:
Blazing, Red, Maple, Red Maple, Wisconsin, Autumn, Eau Claire County, Eau, Claire, County, Augusta, Wisconsin Autumn, Fall, Splendor, Perkins, Street, peak, color, season, October, image, stunning, photo, leaf, Wisconsin Fall, vivid, Perkins Street, backgrounds, located, Maples, WI, beautiful, trees, trunks, colors, earlier, later, depend, soil, composition, soil composition, length, color season, intensity, dependent, amount, moisture, growing, year, growing season, Temperatures, Fall season, rapid, moderate, shorten, displays, Heavy, winds, rain, leaves, Draught, muted, duller, normal, Typically, best, best color, last, weeks, two weeks, Fall color, month, peak season, plants, species, Acer rubrum, Acer, rubrum, Swamp, Swamp Maple, Water, Water Maple, Soft, Soft maple, Wisconsin Maple, tree, photographed, Canon, Power Shot, A1000, Augusta Wisconsin