Archive

for reference only Please see the current year
Augusta Wisconsin 2016 Car Show, Burnout Competition and Demolition Derby

[ back to Bean and Bacon 2016 All Event Schedule ] [ back to 2016 posters and handouts ]
[ back to 2016 Augusta Car Show ] [ back to 2016 bean and bacon days craft show ]
[ back to yearly events ] [ Augusta City Street Map shows all event locations ]
Part of the 2016 Beans and Bacon Days. Hosted by the Wisconsin Thunder Roads Rod and Custom Car Club. Please call a contact person to confirm dates, times and details if you wish to make an entry into an event
Burn-out Contest at Lions Field, Friday July 1, 2016. It's our 9th Annual Event
Registration 5:30 pm through 7 pm. Free Admission to spectators. Food and beverage services are available on Lions Fields grounds.
$10 Entry fee - events start at 7:00 PM
$1,000 in payouts - plus trophies for 1st through 3rd
4 Classes
~ Street Car Class - 1st $100, 2nd place $50
~ Open Car - 1st $400, 2nd place $200
~ Street Truck - 1st $100, 2nd place $50
~ ATV / Motor Cycles - 1st $100
For burnout details call: Justin at 715-225-6487
Demo Derby, Saturday, July 2nd
Pits Open at 2 pm, Car and Drivers Must be in the Pits by 4 pm. Food and beverage services are available on Lions Fields grounds. Food is served at Lions Field
Become a contestant in the Augusta Wisconsin 2016 Demolition Derby. Demolition begins at 5pm
3 Demolition Derby Car Classes with cash awards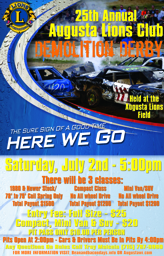 ~ 1980 & Newer Stock Class / 1978 -1979 Coil Spring Only - Payout $1,500.
~ Compact Class - (no all wheel drive) - Payout $1,200.
~ Mini-Van, SUV, (no all wheel drive) - Payout $1,200.
Entry Fees:
~ Full Size - $25
~ Compact, Mini Van & SUV - $20
~ Pit Pass only $10. per person
For Demolition Derby Questions or Rules please call: Troy Malcein 715-797-9990. Print out the Demolition Derby Poster full size on the poster page.
Wisconsin Car Show 2016 beginning at 9 am. Sunday, July 3rd, It's our 12th Annual Event
Augusta Wisconsin Car Show is just 100 Miles from St Paul / Minneapolis. Put the pedal to the metal and come Visit for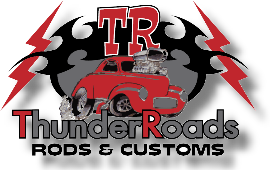 the July 4th Independence Day Celebration.
See photos and a video slide show of some of the cars at the Augusta Wisconsin Beans and Bacon Day Parade
The Car show is just 12 Miles from the I-94 Exit in Osseo Wisconsin - 35 Miles from Black River Falls Interstate 94 via Highway 12 /27 and 22 Miles from the Eau Claire Wisconsin I-94 Exit
Zoom in on some of the Augusta Wisconsin Car show cars from a previous year on the Bean and Bacon Days site

At the Memorial Athletic Field, food and beverages available

Gates open at 8 AM. Field Registration 9am to noon - FREE for spectators - entry fee $7 for contestants ($1 goes to the local food panty)

Spectators are invited to contribute a non-perishable food item too!

Thank you to Bush Brothers & Co. for being part of the Augusta Community for over 50 years!

Winners have the option to participate in the Bean & Bacon Days Parade!

Trophies in 19 classes - see the printable classes and event sponsors on the poster page

Events Schedule:
~ Sweet Clarisse Catering serving breakfast until 10:00 AM, lunch until 2:00 PM
~ Car show registration ends at 12:00
~ Kids Coloring Contest 9:00 thru 11:00
~ Piston Toss for both adults and kids begins at 11:00
~ Muffler Rap begins at 12:15
~ Show voting ballots all need to be in by 1:00
~ Parade starts at 1:30 on Lincoln Street
~ 50-50 drawings 9:00 to 1:00
$1 each, 6 for $5, arm length for $10, car length for $20
~ Drawing will be during the 3:00 awards presentation
~ The awards and trophy presentations will commence at the Registration Tent at 3:00 sharp
~ Music and announcement services throughout the day

Entertainment & Food:
~ Music
~ Breakfast and Lunch
Additional Vendors & Thunder Roads Club Will Be Serving ALL DAY!


Special Award Presentations:
~ People's Choice
~ Mayor's Choice
~ Lion's Choice

The Wisconsin Thunder Roads Rods and Customs Car Club thanks all the people and businesses for sponsoring the trophies and plaques. FREE Spectator parking in the mowed area west of the car show field! Please don't park along the fence at the entrance of the car show field. Please, no pets in the car show area

Independence Day! is Monday July 4 2016
Schedule is subject to change

Contacts for more info: registrations, event scheduling, questions, suggestions, planning
Car Show Sunday, at The Augusta Wisconsin Memorial Athletic Field



Kyle at 715-286-5160

Burnout Competition at The Augusta Wisconsin Lion's Field
Justin 715-225-6487

Demolition Derby
The Augusta Wisconsin Lion's Field

For Demolition Derby Questions please call: Troy Malcein 715-797-9990

For Derby Rules Questions, please call Dusty Kreitlow at 715-937-5274

Contacts for ALL events can be found in the the Bean and Bacon Days Contacts PDF

See event locations on the Geographic Augusta Wisconsin City Map

See the very large Bridgecreek Township Map for things to see in the local area.
| | | | |
| --- | --- | --- | --- |
| | | | |
| See Bean and Bacon Days Info site for our tradition and a Video of Past Car Show Entrants | | See the Map Index for more Augusta Wisconsin Area Maps, including map of Eau Claire County, and county townships | |
The 2016 Augusta Car Show & Burnout Sponsors
Click on the image for a printable 2016 list of Bean and Bacon Days Car Show and Burnout Sponsors. Including Trophie classes
Advanced Auto
Anderson Funeral Home
Audio Adrenalin DJ Services
Augusta Feed
Augusta Lion's Club
Augusta Meats & Catering
Augusta Tire & Auto
Auto Value Eau Claire
Black Bear Supper Club
Brunzlick Trucking
Bush Brothers & Co.
Carol's DJ Mart
Dent Doctor Auto Body

Dickinsen Insurance
Fairchild Auto
Groth Performance
Jr. Ranger
Lion's Club
Max's Club 95
Midtown Auto
Senn Blacktop
Sport Rider
Teigen Trucking
Tep's Drive In
Thunder Roads Car Club



Please support our sponsors. See you at the 2017 Augusta Car Show
The AUGUSTA LIONS CLUB; Proud to sponsor the 12th Annual Thunder Roads Car Club Car Truck Tractor Cycle Show on Sunday July 3rd, 2016

See Events in the Archived 2015 Augusta Wisconsin Car Show Page [ 2015 ]
See: Car Show, Hot Rods, Music, Club, Thunder Roads, Antiques, Tractors, Cycles, Muffler, Rapping, Piston Toss, Dash, plaques, Prizes, Hot Dogs, Curds, Car to Sell, Custom, Autos, Vintage, Augusta, WI, Wisconsin, July, 4th, 2016, 2017m Thunder Road, Festival, Celebration, Bean, Bacon, Days, Lions, Club, Bush, Brothers, Beans