Augusta Wisconsin City Street Map
Augusta Wis. City Map featuring locations of Bush Brothers, Augusta Parks, Augusta Cemeteries, and other Augusta Locations Come visit us in Augusta Wisconsin Augusta Wisc Map.
Street Map of Augusta Wisconsin with special features in the City of Augusta Wis. Schools, Parks, and More. Directions from Augusta to Osseo, Eau Claire, Cadott and Black River Falls Wisconsin
Streets and Avenues on the Augusta Street Map can be found on the Augusta Wisconsin Street List Page here. Click to See a full size image of the Augusta Wisconsin Street Map full size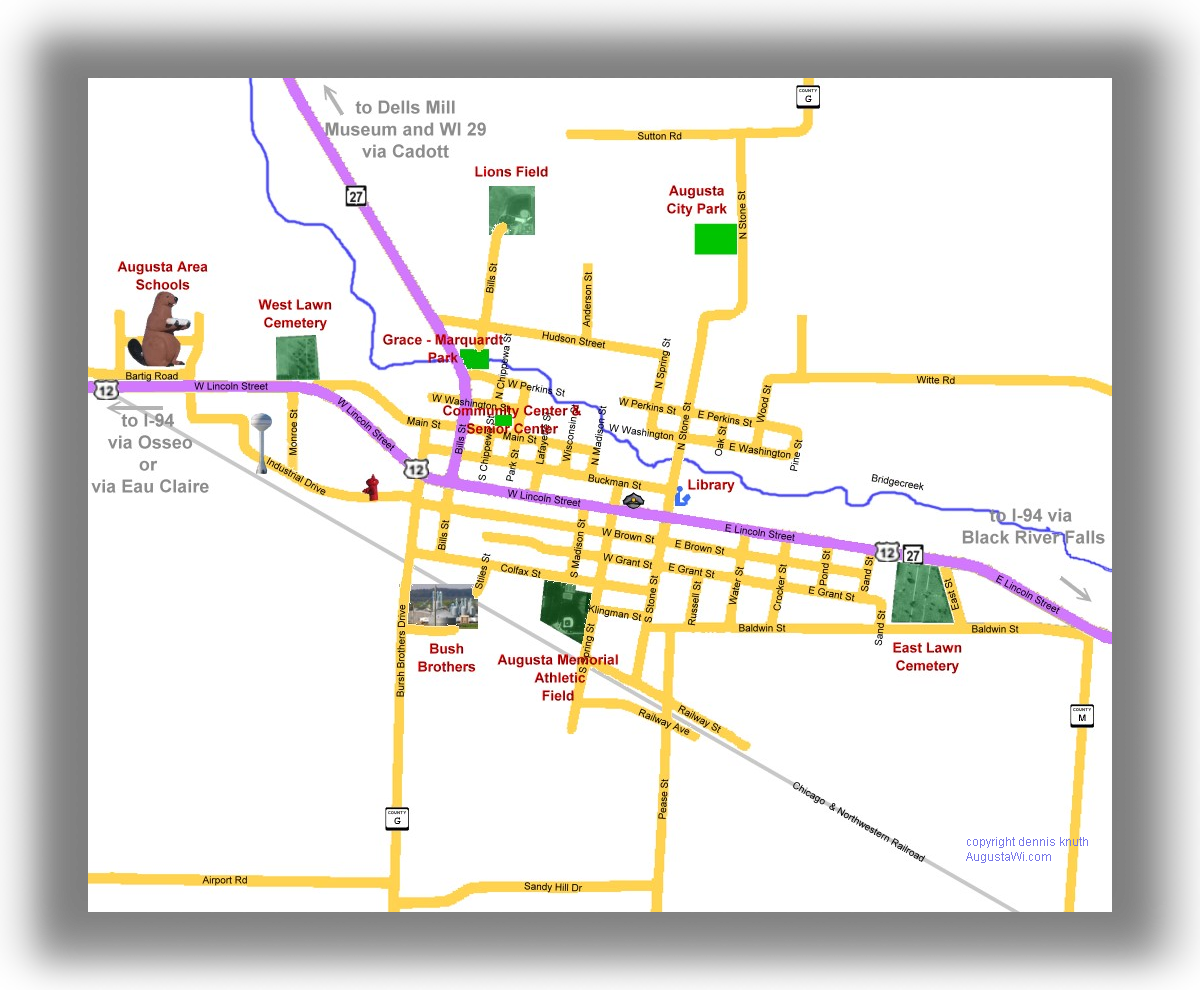 Directions to US Interstate 94 and Eau Claire Wisconsin via Highway 12, Osseo Wisconsin via Eau Claire Highway 12 and County Road R and to Black River Falls Wisconsin by Highway 12 and 27 Also, Direction to Cadott, Wisconsin and Wisconsin Highway 29 via Wisconsin Highway 27
Check out the Wisconsin County Map too to see where we are located in the State of Wisconsin.
Additional Maps Augusta Wisconsin Satellite Map on the Acme Mapper site by the US geological service. And the Augusta Wisconsin city map with the geographic features and streets superimposed on the background
Also see the Wisconsin map of the Dells Area for the Dells Mill Museum Amish Buggies and modern automobiles share our country roads.
Please drive especially carefully when mounting hills and rounding corners on our country roads, there may be an Amish buggy just out of site