A detailed map of Washington Township in Eau Claire County
The Town of Washington
The Township map is best and most fully seen on large screen monitors with a resolution of 1680 x 1080 or larger See lists below this township map for a list of all features.
To display the Washington Township map clearly in full size, click on the image, right click, view image
See the Fall Creek WI Business Directory and Augusta Wis Business Directory for Business Addresses and Phone Numbers nearby the Town of Clear Creek and the Town of Otter Creek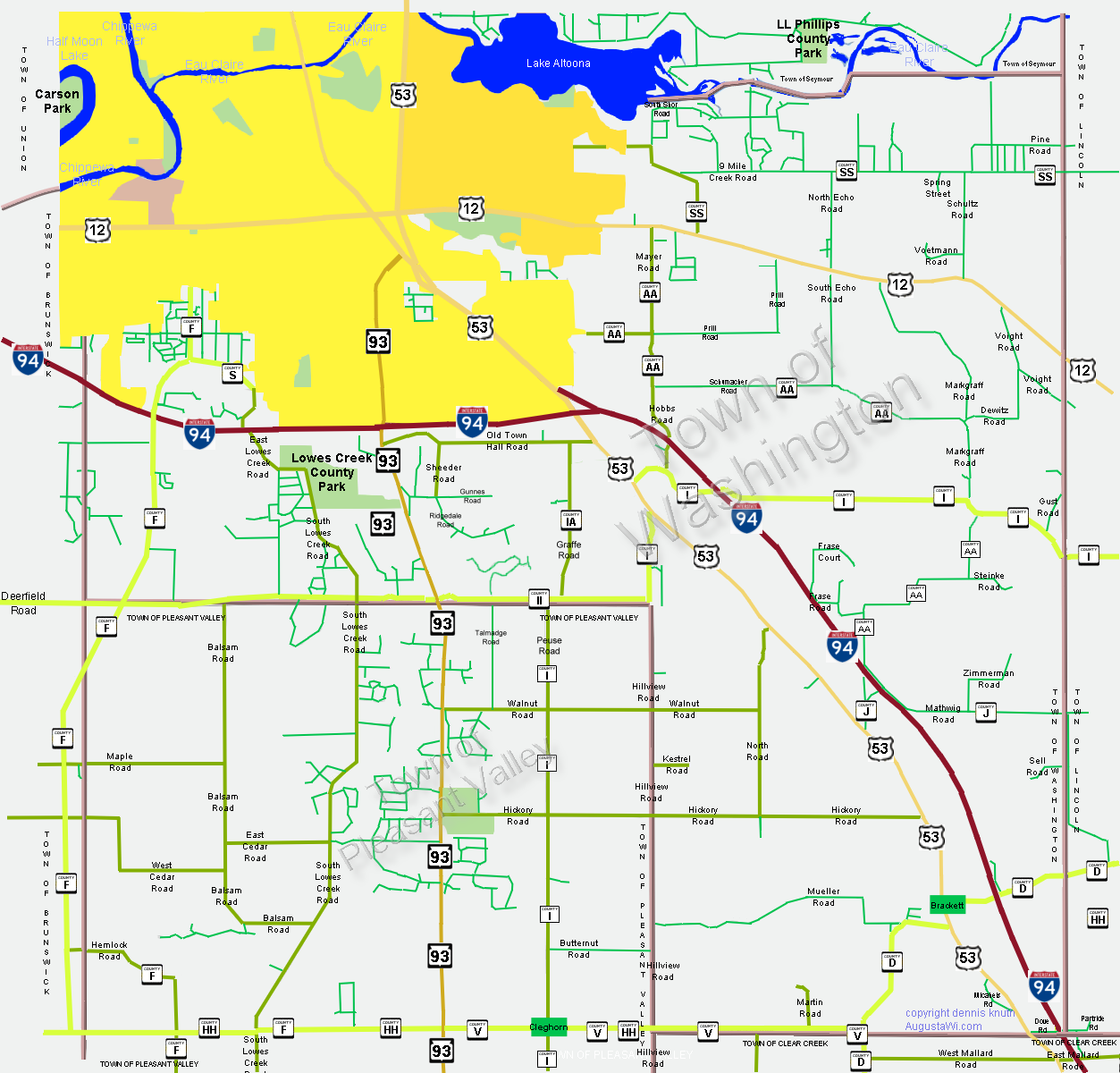 Augusta Wisc, to the east, and Fall Creek Wisconsin, to the east, are nearby the towns.
Highways, Wisconsin State Roads and County Roads in the in the Town of Washington
County Road xx
Country Road AA
Country Road D
Country Road HH
Country Road HH
Country Road I

Country Road IA
Country Road II
Country Road V
County Road J
County Road S
County Road SS

County Road V
I-94 Interstate 94
US Highway 12
US Highway 53
Wisconsin Highway 93

Named Roads and Byways in Eau Claire County Wisconsin Town of Washington
9 Mile Road
Balsam Road
Butternut Road
East Cedar Road
West Cedar Road
Dewitz Road
Dove Road
North Echo Road
South Echo Road
Frase Court
Frase Road
Graff Road
Guinnes Road
Gust road
Hickory Road

Hillview Road
Hobbs Road
Kestrel Road
East Lowes Creek Road
South Lowes Creek Road
East Mallard Road
West Mallard Road
Maple Road
Markgraff Road
Mathwig Road
Mayer road
Michaels Road
Mueller road
North Road
Old Town Hall Road
Partridge Road

Peuse Road
Pine Road
Prill Road
Ridgedale Road
Schultz Road
Schumacher Road
Sell Road
Sheeder road
South Shore Drive
Spring Street
Steinke road
Talmadge Road
Voetmann Road
Voight Road
Walnnut Road
Zimmerman Road

Areas, Communities, Cities Campgrounds, Parks and Locales identified by a common name - Find them in Washington Township
| | | |
| --- | --- | --- |
| Allen Wisconsin | Cleghorn Wisconsin | Thompson Valley |
| Carson Park | LL Philips County Park | Lowes Creek County Park |
Areas that Border on the Town of Washington in Eau Claire County
City of Eau Claire Wisconsin
Clear Creek Township
Town of Brunswick
City of Altoona Wisconsin
Seymour Township
Town of Lincoln
Pleasant Valley Township

Rivers, Creeks, Ponds and other Waterways in Washington Township
Lake Altoona
Chippewa River
Eau Claire River
Half Moon Lake
The map of Washington Township in Eau Claire County area is not drawn to scale. It is hand drawn and locations are approximate. Information is culled from many sources. Its currency may not be up-to-date because some of the sources are not up-to-date.