History of the Augusta Wisconsin First Ward Park
See authors note about the times the park was built in the 1880s
Augusta Wisconsin History
First | Previous Picture | Next Picture | Last | Back to Miscellaneous History Index ] [ Photo Index ]
[ Back to History Page ] [ Video Slide Show of Miscellaneous Photos ]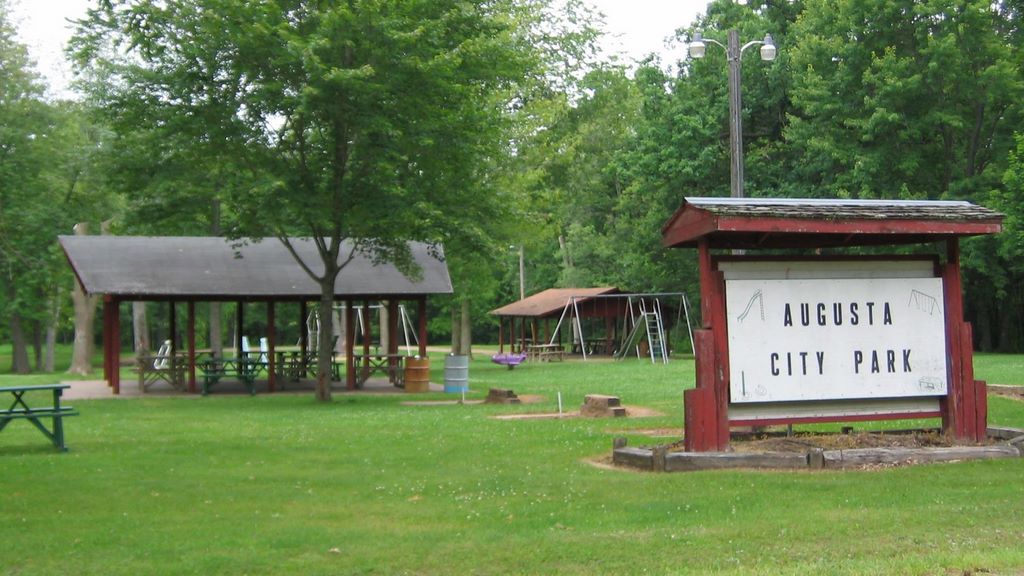 The City Park Of Augusta Wisconsin. Also know as First Ward Park. The park was set in 1885 and still exists today. Come, sit a spell, enjoy the quiet and image the beginning of this space. Think about the history on the sign.
Augusta Wisconsin City Park - Originally Call First Ward Park of Augusta Wisconsin
1885- Five Acres of land were brought by the city council from Sol Barber at the cost of $300. Council purchased 24 trees.
1887 – Memorial Day Program and first picnic held in the new park
1890 – A kitchen and shelter were built and well dug. 72 trees were planted
1900 - Fourth of July Program and picnic.
1902 - Grand Army of the Republic from Augusta held picnic
1922 - All Surrounding German church congregations held services at park. A gigantic band concert was held
1935 – Council decided to sell the park – no bids were received
1971 – Two new shelters along with streets, restrooms, playground equipment and landscaping was completed Sign backside label information - "Lloyd Holden, Historian" – dated 1984
2009 - The sign with the above history was removed because of its condition
Editors notes: The 1887 point mentions Memorial Day, However, it was actually known as Decoration Days during the time.
There was a depression in the late 1880's - the value of the land likely fell considerably from the original exorbitant 1885 price. Note that there were no takers in the attempted sale during the Great Depression of the 1930's. It was likely that the city fathers needed to raise money to keep the city budget in the black. Also, if you roam around the park you will likely find trees that are old enough to be from the original plantings of more that a century ago . The picture was taken in 2004 about 20 years after the park was remodeled and updated.
Augusta Wisconsin City Park, Indian Head Country, Indianhead, Chippewa Valley,Grand Army of the Republic, Fourth of July Picnic, Quiet times, family outing, 1885, Lloyd Holden, Wisc, WI, 19th Century, First, Ward