Grace Lutheran Church in the cold winter time in Augusta Wisconsin
See a photo video slide show of all the churches in Augusta Wisconsin on the main Churches pages



Grace Lutheran Church
715-286-2116
Fax: 715-286-5039
814 Hudson Street
Augusta Wisconsin 54722
email: graceluth @ centuryte

See the Grace Lutheran Summer Time page for worship schedule

Augusta Wisconsin Grace Luther Church Photo taken July, 2004


Click on the image to see it full size.

Picture estimated circa 1930's. Note that roads are still unpaved The Grace Lutheran Church in Augusta Wisconsin was one of the largest Missouri Synod Churches in Wisconsin when it was formed in 1870.
Click on a thumb nail to see the other Augusta Wisconsin Churches.
The Augusta Wisconsin Church slide show video

See the History of Augusta Wisconsin Churches in 1874
Visit one of our Wisconsin Churches to nourish your spirit and nurture your soul. The Augusta Church slide show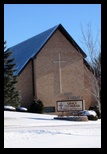 Another view of the Grace Lutheran Church in Augusta in winter