Augusta Wisconsin Stone Street Post card from 1910
Looking south toward the Augusta Telephone Company and the Augusta Hotel
[ Next ] [ Previous ] [ Back to Lincoln Street ] [ Back to Photo Index ]
[ Video Slide Show of all Stone Street Photos ]
Theses scans of a Post Card depicting Stone Street circa 1910 were graciously forwarded to us by Glen Metz of Arizona in December 2010. The Post Card is for sale - see below for information about purchasing and about the photos on the front and back of the card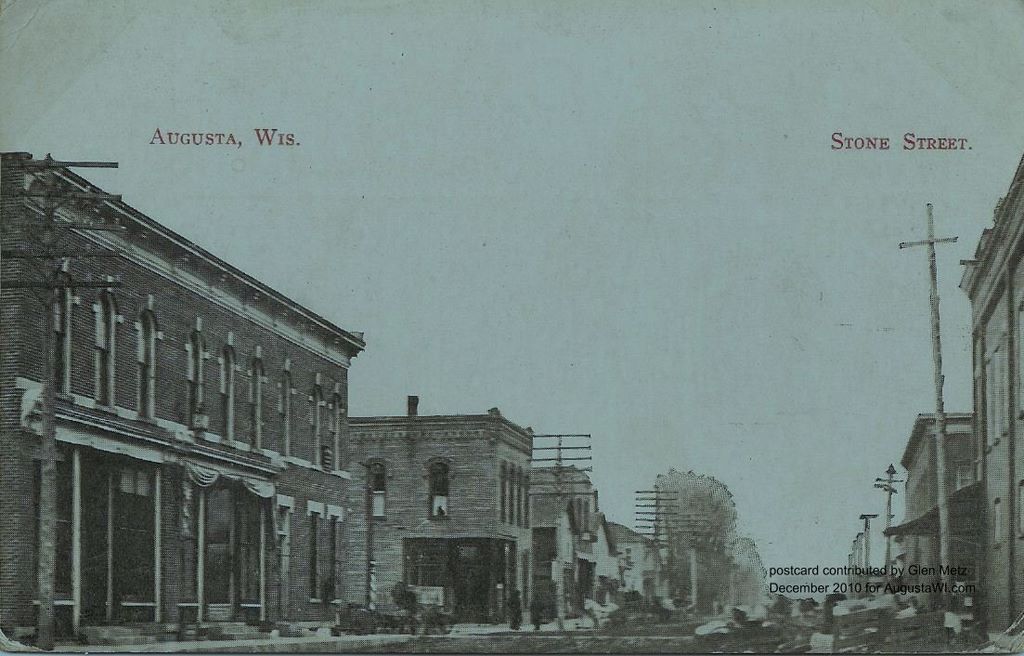 Thank you Glen Metz for thinking of the Augusta Site before selling the card. He has offered this 1910 postcard for sale as a collectors item of Historic Memorabilia and / or stamp collecting interest. If you are interested in purchasing this historic item, please register on the registration page and we can put you in contact with Mr. Metz.
The view shows Stone Street in an uncommon view looking South from about Buckman Street to Lincoln Street and Brown Street and beyond (the Augusta Hotel, now the Park House Inn Senior Center) is on the Corner of Stone and Brown
The Victorian Era building on the immediate left is the Augusta Library in 2010, usually known as the 1878 Bank Building. The building on the immediate right is the Amish Woodshed in 2010. In its more immediate history is was a general mercantile and department store during the mid 20th Century
The massive telephone poles on the left are headed for the 1910 Augusta Wisconsin Telephone Office also at the corner of Stone and Brown Street
_________________________________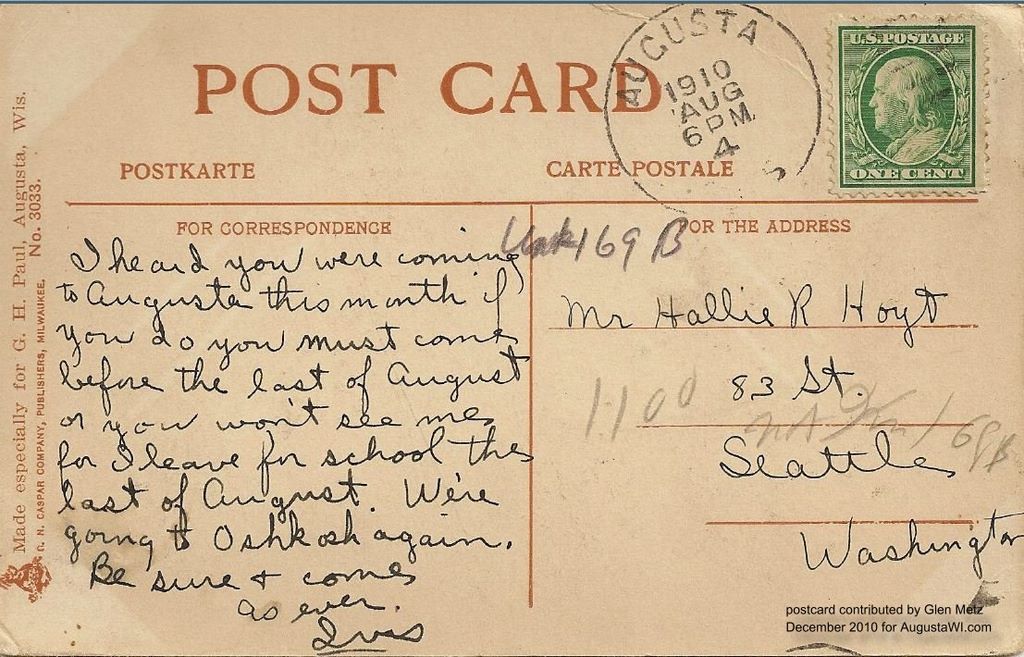 The back of the post card is transcribed here for search engine and historical research purposes
The Augusta Wi High School Graduating class of 1907 included both an Avis Hoyt and Ivis Hoyt, at minimum one could assume they were brother and sister and even possibly twins. The graduating class size was 13
The History of Augusta Wisconsin as written in 1956 identifies a G. W. Paul as owning the City Drug Store and also dealing in real estate and insurance in the early quarter of the 20th century- As identified on the back of the post card, one wonders if the 2 Paul's are the same person with varying initials or are related individuals
The 1910 Post Card Transcription: Labels:
Post Card, Postkarte [German], Carte Postal [French]
Made especially for:
G. H. Paul, Augusta Wisconsin No. 3033 G. N. Caspar Company Milwaukee, WI
For the Correspondence:
I heard you were coming to Augusta this month if you do you must come before the last of August or you won't see me for I leave for school the last of August. We're going to Oshkosh again. Be sure & come
As ever
[Signed]
Ivis
Postmarked Augusta Wisconsin on August 1910 6pm, Postage 1 Cent
For the Address:
Mr. Hallie R Hoyt
83 Street
Seattle Washington
---------------------------------
Authors Remarks: The contributor of the post card is the grandson of its recipient, Mr. H. Hoyt. Mr. Metz is not known to be related to any of the Metz family that lived in Augusta over the 150 plus years from 1856 to 2010. It is not known how Mr. Hallie Hoyt is related to Ivis and Avis Hoyt.
The Augusta Wisconsin History as written in 1956 reveals that G. W. Paul was one of the first owners of a car in Augusta, Chase somewhere between 1900 and 1910

A panorama of the Bean and Bacon Days Parade in 2001. Looking West North and East. Lincoln Street during the Bean and Bacon Days Independence Day Parade in July of 2001
Augusta, Wi, Panorama, Bean, Bacon, Days, Parade, 2001, Lincoln, Street, Wisconsin, Lincoln Street, Augusta Wisconsin, July 4th, Independence Day, Bush Brothers Beans, Bean and Bacon Days, Panorama, 2001, Small town holiday
July 4th, Independence Day, Bush Brothers Beans, Bean and Bacon Days, Panorama, 2001, Small town holiday,法輪功, Falungong, 李洪志, June 4, 6月4日, 天安门广场, Tiananmen Square, 1989